Posts Tagged 'Communication'
Like many people today who are back in the office for the first time since before the holidays, I've been spending the day catching up, including going through my Google Reader. I subscribe to a number of corporate blogs, and as I got to the Delta Air Lines blog, I expected to read something – even a short post – about the attempted bombing on Northwest Airlines Flight 253 as it made its way to Detroit on Christmas Day.
But there was nothing about the incident on the blog, an incident which caused a ripple effect of newly enacted security measures and massive disruptions in international air travel around the world.
I went to the Delta Air Lines website, found the News section of the site and one very short official statement, "Delta Air Lines Issues Statement on Northwest Flight 253." The official statement described a passenger who "caused a disturbance" on the flight and was restrained. The description of events is vague enough to apply to any number of types of potential "disruptive" activities, and wouldn't necessarily lead one to believe that an attempted terrorist act had been committed. While directing "additional questions" to law enforcement, the statement goes into no additional detail about what happened, even though some of those details were already being reported by the media.
So, I checked Delta's Twitter account, to see if additional information or context was being provided there. There's exactly onetweet specifically about the December 25th attempted bombing: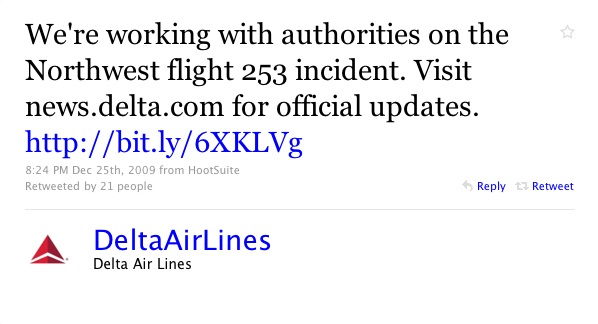 Now, the Delta Twitter account appears to have sat dormant from June 17th till December 22nd of 2009, when traveler outcry over U.S. domestic travel delays due to various winter storms was reaching a fever pitch. But the one tweet about the 25th simply redirects back to Delta's website, where no additional statements about the incident have been provided since the 25th. There have been additional tweets on @DeltaAirLines advising travelers to expect delays due to new TSA regulations, but nothing specifically about the incident on the 25th.
I'd guess that there were at least three factors working against Delta's communication efforts:
The attempted bombing occurred on Christmas Day, one of the very few days of the year when almost no corporate employees are in the office. But in today's age, it's inconceivable that "the world's largest airline," a company responsible daily for hundreds of thousands of people's lives, wouldn't have some kind of chain of communication in place to deal with an event like this, even on Christmas Day.
Delta and Northwest have been in the process of merging in the last year, and just in the last week were given government permission to fully complete the merger. There's some confusion (for an average reader) in the company's statement, with Delta as the company issuing the statement and the flight branded/operated as a Northwest flight. I can imagine that there's still confusion in corporate communication operational role clarity as well. I know, as a frequent Delta/Northwest traveler, there has still been confusion on the ground. Again, I can't imagine that a company of this size and complexity wouldn't have negotiated a crisis communication response process as part of the merger details.
From this and other articles, it appears that there's some behind-the-scenes dissatisfaction between the Delta CEO and the government agencies responsible for airline safety. But "inside baseball" talk isn't what the average member of the public needs or wants to hear in the aftermath of this kind of event.
Also, what I find unfortunate in this communication situation is that Delta had the two social media channels – its blog and its Twitter account – already established, had an audience eager for more information, and provided only the scant minimum of content or context. What I find particularly disconcerting about the blog is that there have been two posts since the 25th about totally innocuous content, which in the wake of the serious events of the 25th read as even more out of touch. (I imagine they were probably scheduled to post in advance, but again, when crisis happens sometimes the response calls for suspending business-as-usual activities.)
Other companies have used their social media channels in the wake of attempted terrorist attacks despite restrictions on detailed disclosure due to ongoing legal investigation. For example, look at the heartfelt message on the Marriott blog after one of its hotels in Pakistan was the target of an attempted attack in 2007, which lead to the death of a hotel employee and severe injury of another.
Thankfully, Northwest Flight 253 landed safely and disaster was averted, due in large part to the response of the flight crew and other passengers on the flight. But what a lost communication opportunity for the company to provide context, as well as show some humanity and thankfulness, for what in the end was as good an ending as could have been expected.
*Note: I'm a very frequent Delta/Northwest flier, but other than being a long-time customer have no professional ties to the company.
Teachable moments in communication arrive in many forms.
Take 2 minutes and 8 seconds to witness an act of elegance and meaning.
Start Asking from Ryan Fitzgibbon on Vimeo.
Ryan Fitzgibbon designed the video you just watched to comment on the United States' progress on civil rights.  I found it during some random Twitter-surfing, and when I first saw it, I said, "Wow! This really speaks to me." Here's what resonated: Fitzgibbon took the opportunity to be a provocateur, but in the best way possible. His language and images are spare, but he moves through the difficult issue of prejudice with great sensitivity and impact.
The video succeeds for me because its creator employs most of what I will call the 10 Rules of Communication Elegance:
Rule 1. Aim for elegance. Before you even begin to share your ideas, unpack half of that suitcase of information you've brought for the occasion. Make better use of your nucleus of ideas by stripping them down to basics. Yes, simplicity is a baseline requirement for communication. But elegance is even more focused and strategic: it informs simplicity. It not only transmits, it inspires. Keep reading, and I'll tell you how.
Application: Fitzgibbon packs so much punch in a very short period of time – about the length of a television commercial break. There is no excess information. He pushes us to begin being more tolerant today just by questioning ourselves. He doesn't download all his knowledge about prejudice and discrimination. He just gives us the stripped-down essentials for immediate action. I found myself asking the questions the video presented.
Rule 2. Punctuate your communications with meaning. Inspiration doesn't automatically follow the expression of ideas. Inspire others with an act of meaning. That's how I'm defining elegance: it is simplicity plus meaning. Minds differ on what meaning is, but, for me, it's working toward a shared good. It's sharing what I have and what I know to help empower others.
Application: Eliminating prejudice and discrimination is an undeniable collective good. In his video, Fitzgibbon draws us in with an urgent problem and then gives us an immediate tool to deal with it. That call to action is meaningful and gives his communication resonance.
Rule 3. Lead with the dynamic duo–your energy and emotion. The duo also goes by the name passion, and the literature on leadership and public speaking overflows with discussions about it. But the truth remains: With passion, you will connect to others. It is perfectly fine to communicate with structure, strategy and intentionality, but let your energy and emotion seek some entropy, and others will want to follow right along with you.
Application: This video bristles with emotion.  All the usual visual clutter of life has been removed, and we are only able to zoom in on the closed eyes and facial expressions of the people we see. The unsteady camera seems to twitch along with the muscles of the narrators. We may not see into their souls, but we hear the emotion in their voices, we feel the clinched discomfort in their body language, and we sense the urgency of what they are asking. That urgency is contagious.
Rule 4. Develop an authentic point of view and express it in your own way and on your own terms. Your authenticity will influence others to be led by you. Don't try to be a cover version of someone else. Discussions of authenticity also abound in the literature. Never mind that. Being authentic means being natural, having integrity and always striving to express your best self. It is a fundamental building block of credibility.
Application: Fitzgibbons allows the authenticity of the people in his video to speak directly to us. Through their words and body language, we begin to understand the pain of exclusion and misunderstanding. We believe them.
Rule 5. Mix in some surprise. Surprise scrambles the brain's thought sequencers temporarily and then facilitates a higher level of learning. It forces people to think of something in a different way. Use some surprise at the beginning of your narrative, and the results may surprise you.
Application: Fitzgibbon's video does the unexpected. It does not pontificate on a subject that has inspired much pontification. There is no lecture on prejudice before the call to action. There is merely a stream of thought-provoking questions. While they may not be entirely surprising, they are certainly disarming. Fitzgibbon also orchestrates a sense of mystery. Throughout the video, we wonder what our questioners will do next. We wonder when they will open their eyes. What will the great reveal be? Will our eyes open along with theirs?
Rule 6. Add visuals. They provide a concrete picture to which people can relate. They point to a specific example. And images drive learning.
Application: Do we really need to discuss this one? The video has impact because of its spare and stunning visuals.
Rule 7. Tell a story. By all means, make it personal. Real-life vignettes or detailed case studies take statements out of the abstract and ground them with concreteness. Never underestimate the power of storytelling.
Application: Fitzgibbons shows us that meaningful stories don't have to be long. They just have to be personally compelling.
Rule 8. Signal your critical points of information with numbers. Think "three key takeaways," "Seven Habits of Highly Effective People," and "5 Ways Social Media Can Drive More People to Your Website." These countable items provide your listeners and viewers with a road map for what comes next. They'll want to go with you if you let them know where they are going.
Application: So, we see our filmmaker didn't use this one. Well, I did say he used most of the rules.
Rule 9. Repeat your critical points with nuance. Repetition drives learning, but rote iteration isn't what I mean. Don't just repeat. Build on the points you've already made. When revisiting key ideas, be sure to add texture, shading and nuance.
Application: Fitzgibbon builds his entire video by repeating his theme. With each new person we see we get a new frame of reference. We are able to see how prejudice is personal in different ways for different people.
Rule 10. The rules provide valuable fundamentals but they do not guarantee success. Applying the rules will make you a good technician. Using them will make you more persuasive. But, you can only become an artisan by repeatedly putting them into practice. Never leave homebase without Rules 1 through 4. And, then, learning how to use Rules 5 through 9 judiciously will take you farther along the path of becoming an elegant communicator.
Application: Obviously, Fitzgibbons has practiced his craft. We thank him for being so elegant in this teachable moment.
Click here for more info about Ryan Fitzgibbon and the making of the video.
"An informed and responsive public is essential to minimizing the health effects of a pandemic and the resulting consequences to society." One principle of the HHS Pandemic Influenza Plan
Several years ago, when there was a large fear of avian flu, I spent a considerable amount of time researching past flu outbreaks, and what worked and what didn't work for business preparedness planning and response.
Businesses and other large organizations (like non-profits and religious organizations) play an important part of the broader communication efforts both before and during a pandemic flu. The tricky balance for businesses (as well as governments, officials and other bodies) is in communicating important and helpful information while not unnecessarily alarming or panicking employees.
It's important to note that we're not currently at the pandemic flu phase with the swine flu situation. As of today, there are 64 confirmed cases of swine flu in the United States and hundreds of cases worldwide, the United States has declared a public health emergency, and the World Health Organization (WHO) has upgraded the pandemic alert level from phase 3 to phase 4. The phase 4 designation means that "the likelihood of a pandemic has increased, but not that a pandemic is inevitable."
This is not the first time swine flu has affected human populations in the U.S. The 1978 book, "The Swine Flu Affair: Decision-Making on a Slippery Disease" is a review of the federal swine flu program from March 1976 to March 1977 by two Harvard professors, Richard E. Neustadt and Harvey V. Fineberg.
The 1970's swine flu outbreak in the U.S. is believed to have started at Fort Dix, NJ. At Fort Dix, there was 1 death, 13 illnesses, and 500 people who caught but resisted the disease. The federal swine flu program launched in March 1976, and over 40 million Americans were inoculated.
(If you're interested in the history of pandemics, the book "The Great Influenza" by John M. Barry is a fantastic account of the 1918 pandemic.)
Whether in response to swine flu, avian flu, or other potentially pandemic flu's, there are some best practices that organizations can adopt to help employees.
General flu prevention and communication generally boils down to a "everything I need to know I learned in kindergarten" approach:
1.    Cover mouth + nose when coughing or sneezing (but avoid touching)
2.    Wash hands frequently for the length of time it takes to sing "Happy Birthday"
3.    Keep work area clean
4.    If sick, stay home
5.    Avoid close contact with sick people
Pandemic flu communication from businesses should include:
1.    Basic protection information for employees + their families
2.    Unique aspects + symptoms of swine flu (vs. other types of flu)
3.    Facts + misconceptions about vaccines
4.    Company policies about working from home, office leave, transportation, etc.
5.    Support services available and/or mental health resources
6.    Discussion about uncertainty
The best practices for pandemic flu communication for businesses:
1.    Coordinate communications internally
2.    Develop language and culture-appropriate materials
3.    Communicate uncertainty
4.    Plan for rumors and misinformation
5.    Coordinate with all stakeholders, including public health agencies if necessary
6.    Use correct information
7.    Stress universal hygiene behavior and show ways to minimize risk
8.    Use multiple channels to communicate
9.    Communicate a company response plan (if there is one, and if not, think about developing one)
10.  Explain HR policies
Companies should also be prepared for unexpected questions with uncertain answers. For example, some employees might wonder if their pets are at risk. It may seem silly, but pets are an integral part of many of our households (certainly in mine), and often feel like members of our families.
Social media is also playing a role in how people are learning about and sharing information on swine flu through Twitter, Google Maps and other channels. (There's also some debate about whether social media is a contributing factor in spreading more panic.) Ogilvy's London office has a "Swine Flu Dashboard" that shows the aggregated swine flu conversation across the social web.
Other Resources
There are many pandemic flu resources from governmental and health sources that may be helpful for businesses:
We'll be covering this topic as it progresses. What else do you want to know about swine flu? What else should organizations keep in mind? Do you think social media is playing a role in amplifying fear?